As Frieze fast approaches, and as we continue to trial new more sustainable packing solutions, we are thrilled to announce that Queen's have partnered with ROKBOX to help clients reduce the environmental impact of moving works to and from the fair.
For those of our clients who are new to ROKBOX, ROKBOX aims to bring safer and more sustainable packing solutions to the art market, most notably through their aptly named 'ROKBOX' which acts as a reusable crate for two-dimensional artworks.
Besides being extremely durable, one of the main advantages of ROKBOX is that it is reusable. This means that not only do clients no longer need to invest in as many wooden crates that will only be used a handful of times but waste is also reduced significantly as ROKBOX can be used for multiple artworks at any one time.
Not only are ROKBOX lighter than the majority of wooden crates which reduces the carbon emissions during shipping but the internal specifications of ROKBOX also eliminate the need for extra wrapping and packing materials around the artwork, helping to further minimize packaging consumption when transporting a work.
So, how will Queen's be using ROKBOX to help reduce packaging consumption and carbon emissions at Frieze?
Since Queen's will have ROKBOX available throughout Frieze, for suitable movements, our team of technicians will be able to use their adaptable system for securing artworks on-site, without the need to order bespoke crates. This means that our team will be able to safely pack artworks of various dimensions and prepare them for shipment without delay, which is of particular importance for clients completing last-minute booth changes or arranging for urgent post-sale shipments. In some circumstances, the team may also be able to utilise ROKBOX upon de-installation and when returning works to galleries and storage facilities.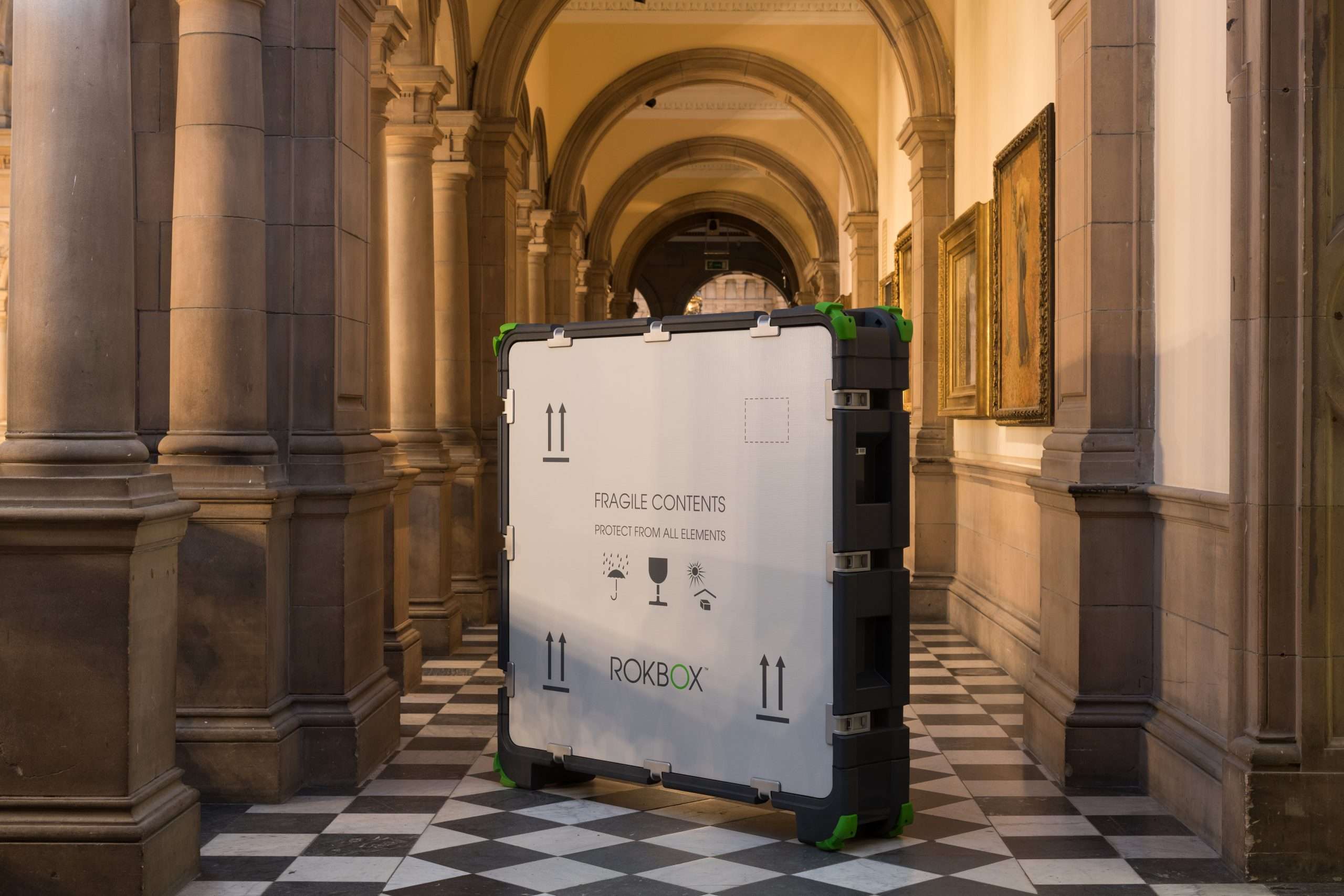 Which boxes will be available and what can be packed in these?
Queen's will have ROKBOX 2:2 available throughout Frieze, subject to availability. These measure 1.6m x 1.6m and can accommodate works of varying sizes up to this specification. The team will also have both ROKBOX internal hardware systems at their disposal, which include the original fixing plate system (compatible with oz clips and mirror plates on artworks) and the new combi-clamp system (suitable for works that are already card wrapped or in travel frames). Of course, if you're in any doubt as to whether your works are appropriate for transit in a ROKBOX, our team will be happy to advise.
How can I register my interest in using your ROKBOX throughout Frieze?
If you would be interested in reducing your packaging consumption during Frieze, then please do let your Queen's contact know or email info@queensfineart.com and our team will be happy to assist. Our team of coordinators will also be offering ROKBOX solutions to clients where appropriate and applicable.
For shipping, storage or installation requests, your Queen's contact remains at your disposal. Alternatively, please contact info@queensfineart.com