In the third part of our luxury interior design series, we spoke with friend of Queen's, Rebecca Wakefield, founder of design studio ' Studio Fortnum'. With a focus on materiality and texture, many would describe Rebecca's design as timeless, thoughtful and unpretentious. Rebecca graduated with a BA in Architecture 11 years ago and set up her design studio ' Studio Fortnum' 3.5 years ago, after having her first baby, working between home and her studio in South East London. After following Rebecca's career and watching her online following grow rapidly, we were keen to find out how Rebecca's used Instagram to grow her business over the last 3.5 years, as well, as is customary in this series, exploring how interior designers like to use art in the designs. First up,
Where do you like to use art in your luxury interior design and why?
Art is the foundation of any great interior. It can be used to base an entire scheme around or to elevate a space. I love how personal art makes an interior, a captivating piece can completely transform a room. I really love to add art in unexpected areas, or hang it in an unexpected or unique way, maybe by using a fun frame or hanging it at a lower height. I also love discovering emerging artists, something I truly love about South London is the variety of craftsmen and artists.
I noticed that you also provide art consultancy to your clients. With much of the world moving online due to the Covid pandemic, how have you chosen the pieces for your clients and to what extent do you balance a 'good investment' with a piece that matches the design aesthetic?
If there are existing pieces of art the client has, I always start a space with these in mind, designing suitable layouts for them with large wall spaces to let them breathe. Moreover, if am consulting on new art pieces, I tend to do this in tandem with the interior design. This year, on behalf of my clients, I have bought pieces from Tomo Campbell, Caroline Walls, Alice Watt and Eleanor Johnson, all emerging artists that I truly love.
How much of your business do you get through IG?
Around 80% of my clients come via Instagram which is pretty phenomenal! Other clients are by word of mouth, recommendation or are existing clients of mine.
Are there any other channels you've been exploring? As technology keeps moving are there new platforms we should be looking out for?
I'm working on an online workshop at the moment on how to get into interior design where I'm interviewing some of my favourite designers, I'd love to do a podcast on what 'home' means to people later on this year, and I also keep my Pinterest as updated as possible. I'm loving newsletters so that's something I hope to use as a marketing tool later on too. Bring Tumblr back!
Do you see yourself as a businesswoman, an influencer or a designer?
I'm technically all three I suppose, but designing is my main jam, that's the hat I love to wear the most.
Which part of luxury interior design gets you going/excites you the most?
Layout design – nothing excites me and inspires me more than working on a layout design and nailing special layouts.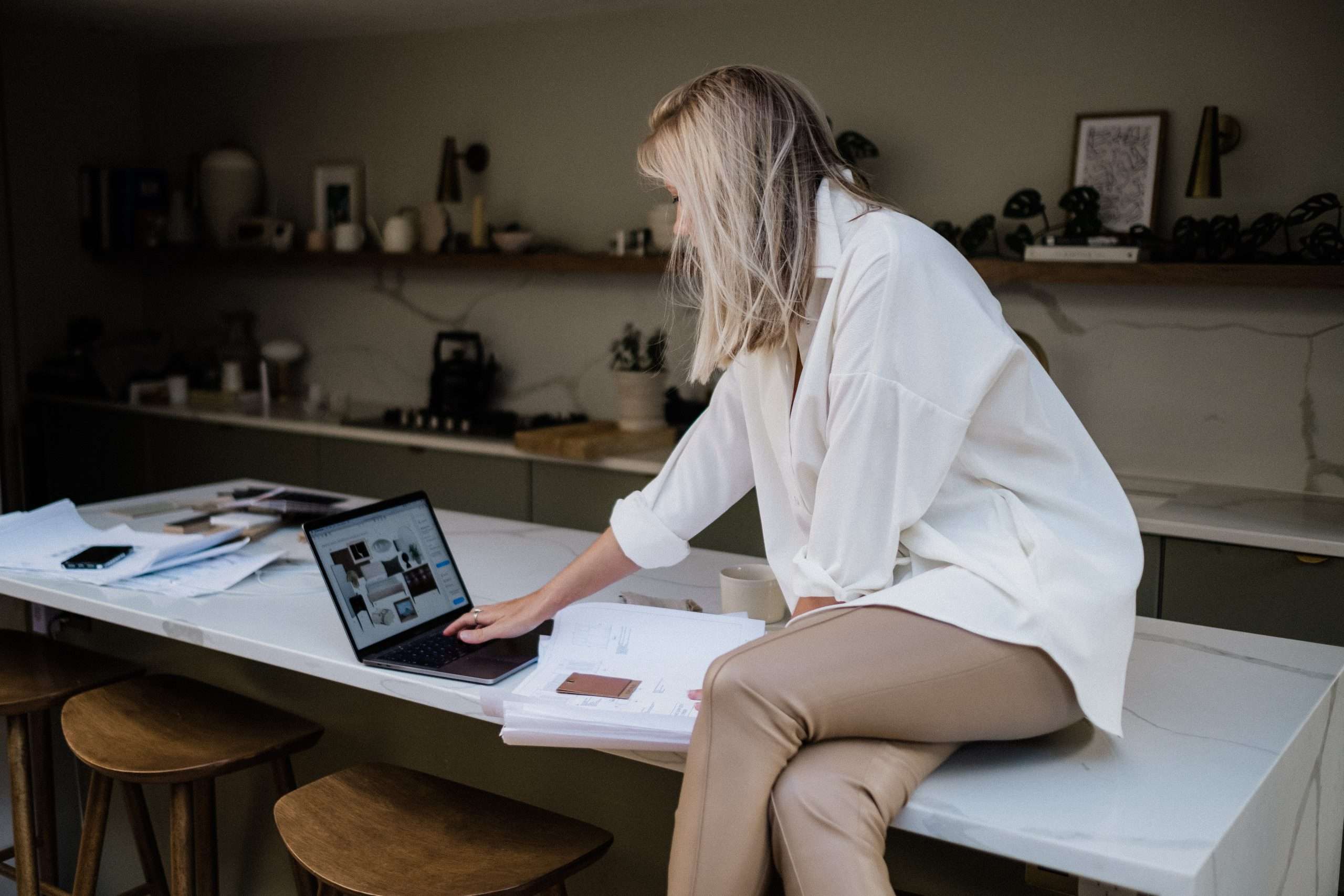 You've got this great platform – what excites you most about what you can do with it? 
I'm so lucky, I have such a supportive network of peers and followers, I've been doing E-design and working on The Expert platform during the pandemic which has been so much fun and such a change in pace, I've loved being able to offer people a slice of design advice at a lower price point.
Your personality really shines through on your channels and you don't seem afraid to hide who you are to the public. Is this something you think about much? Is there much/anything you hold back on putting out there?
Since I had kids I care so much less about judgement from others, I have such amazing feedback generally, that the rare times that I have negative comments I just disregard it. The more followers I have, the bigger my imposter syndrome becomes though! I need to learn to manage that one a little better. We've made a decision not to show our children as much now that they are getting older, just a personal choice of ours, but I do miss putting their cute faces up there!
Are you an interior designer looking for logistical support? As part of our ongoing interior design services, our specialist team can assist with condition reporting, inventory management, storage and installation. Find out more or contact the team and we'd be happy to help.