The environmental impact of shipping sculptures and fine art in general is increasingly a concern within the art industry, and rightly so.
Moving your works to collector's home, galleries and alike will always generate a least a nominal amount of CO2 but there are a number of steps, outlined below, that can be taken to ensure that your shipment is as sustainable as possible.
1. Understand the CO2 emissions that are generated from shipping sculptures.
This first step to making your shipments more environmentally friendly is understanding the level of CO2 that is emitted in the first instance. Many logistics firms should now provide the CO2 emissions on their estimates, and some are now showing how this compares to alternatives, such as see freight. This is the case with Queen's.
By understanding the emissions that are produced by the movement of your works, you can actively make decisions to explore other methods of transport that may be more environmentally friendly. You may also choose to donate to a strategic climate fund, such as Client Earth, which many now argue this is more efficient that simply offsetting. We do this as standard and at no extra cost. More information on this can be found here.
2. Explore alternative to air freight, where applicable.
If you are looking to explore sea freight, more information can be found here on when sea freight is a viable option and how to ensure that the insurance guidelines are followed when shipping sculptures via sea.
For road freight, it's worth checking to see whether the movement of your work can be consolidated with others going to a destination nearby. We continue to offer a regular consolidated shuttle service between London and the most popular destinations in Europe, including Paris, Geneva, Amsterdam, and Basel. This is also more cost effective that opting for a dedicated vehicle. For information on our latest shuttle dates, email info@queensfineart.com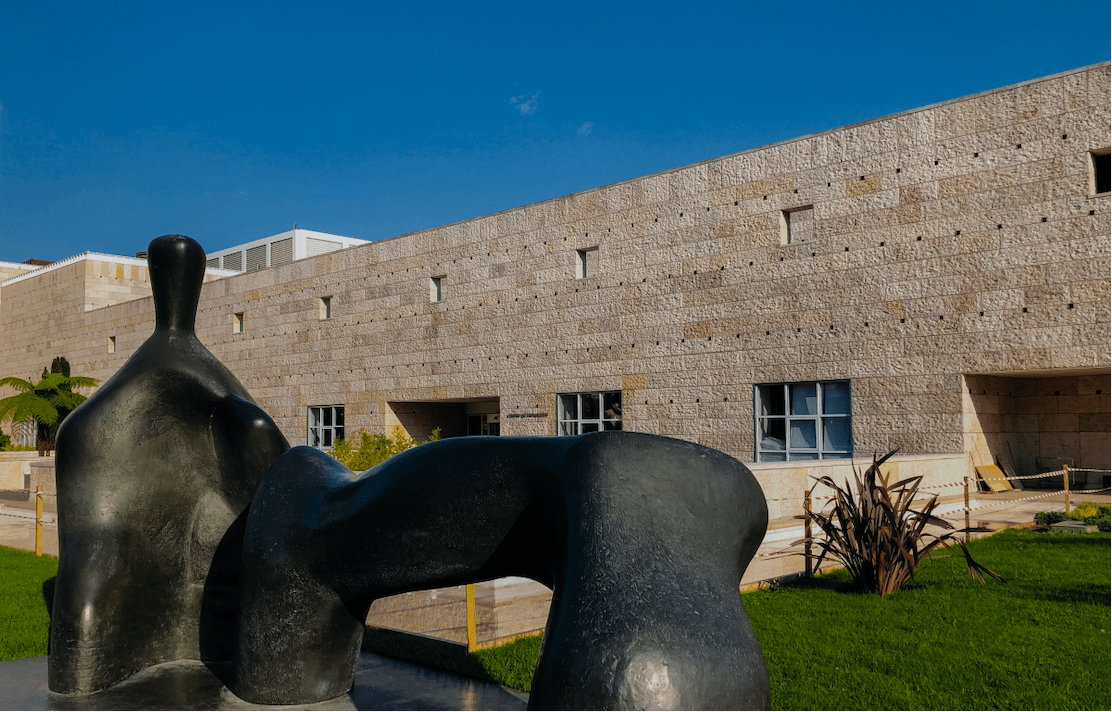 3. If you're planning on shipping sculptures, do so well in advance.
Shipping works via sea often results in a longer lead time and requires a little more planning. If you know that you have a shipment coming up, it's important to speak with your logistics provider as early as possible.
Although rates are likely to fluctuate, planning your shipment in advance can ensure that you can choose the route that has least impact on the environment. If, for example, delivery dates can be flexible, consolidated transport, as mentioned above, can be a great option to reduce both cost and carbon emissions.
4. Consider whether packing materials can be re-used
For clients looking to explore reusable crate options, we have a number of ROKBOX on site. These can be used to reduce the amount of bespoke crating and packing required when moving works both internationally and abroad.
For sculptures specifically, we are sometimes able to reuse crates that have been discarded by a previous client, so it's always worth checking with your logistics provider whether they have any crates already available.
When transporting a sculpture specifically for an exhibition and when you know the work is likely to return or be moved to another destination, if possible, make sure to keep the packaging that was used for the original shipment. This can often be reused.
Should space be at a premium, it can sometimes be more cost effective to store crates for a short period than to have these re-commissioned when the exhibition is over. Your logistics provider will often advise whether this is the case but it's useful to keep in mind.
Should you be looking to move sculptures in the near future, you can email info@queensfineart.com and the our team will be in touch to arrange everything for you.