From small-scale paintings, to expansive canvases, we worked closely with Nahmad Projects to realise their newest exhibition installation.
The show presents a collection of recent works by upcoming contemporary artist Raghav Babbar.
Watch the above video to go behind the scenes with us and explore the exhibition installation.
We transported, unpacked, and installed this emotive collection of portraits, which opens to the public this evening (1 June), timed to coincide with London Gallery Weekend.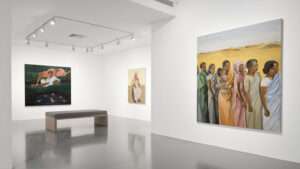 Established in 2016 by Joseph Nahmad, the gallery hosts a range of modern and contemporary projects in its historic London, Cork Street space.
'Raghav Babbar: New Paintings', presents an intensely personal and evocative body of work. Through his skilled and patient application of oil paint, Babbar creates captivating textures and compositions. His paintings are a testament to his meticulous layering, a process that requires both time and an unwavering dedication to building up each stroke with a rich and vibrant palette.
Babbar renders a profound connection with his subjects through his work. Drawing inspiration from friends, family, and everyday individuals living their lives within India's diverse society, he captures their emotional depth with empathy and sensitivity.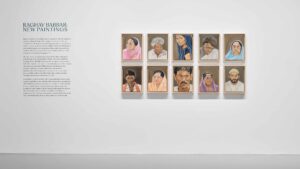 We're delighted to have helped bring this vibrant exhibition to life.