Queen's continue to look for the most sustainable art transportation and storage solutions. Our most recent carbon audit highlighted that around 10% of our total emissions were produced through packaging. Therefore,  we decided to try and do something about it.
The heaviest of all our packing methods, by a substantial margin, were crates. Of course, we have re-usable crates such as ROKBOX available for clients. However, sometimes works still require a bespoke crate. Or the destination in which the artwork is being shipped means that re-usable methods aren't always appropriate.
So, what could we do to improve this part of art transportation?
Our current crates are made from sustainably sourced pine. But how could we make them lighter and therefore reduce the amount of energy required to move artworks from A to B?
In third party tests, Bamboo was found to be stronger and lighter than pine. So, in theory, this would mean that bamboo would be the perfect replacement material for us to make our crates from.
We partnered with Abraham Cases to test our theory to see whether bamboo would be a viable, and safe, option for art transportation. We have sourced the bamboo from the British Bamboo Company and started the building process.
It was recommended that we use bamboo laminate to build the crate, which you can see below. This would ensure that the crates were strong enough to hold the weight of the work inside. But at the same time they have to be sturdy enough to protect the work during transit.
You can see our crate samples below.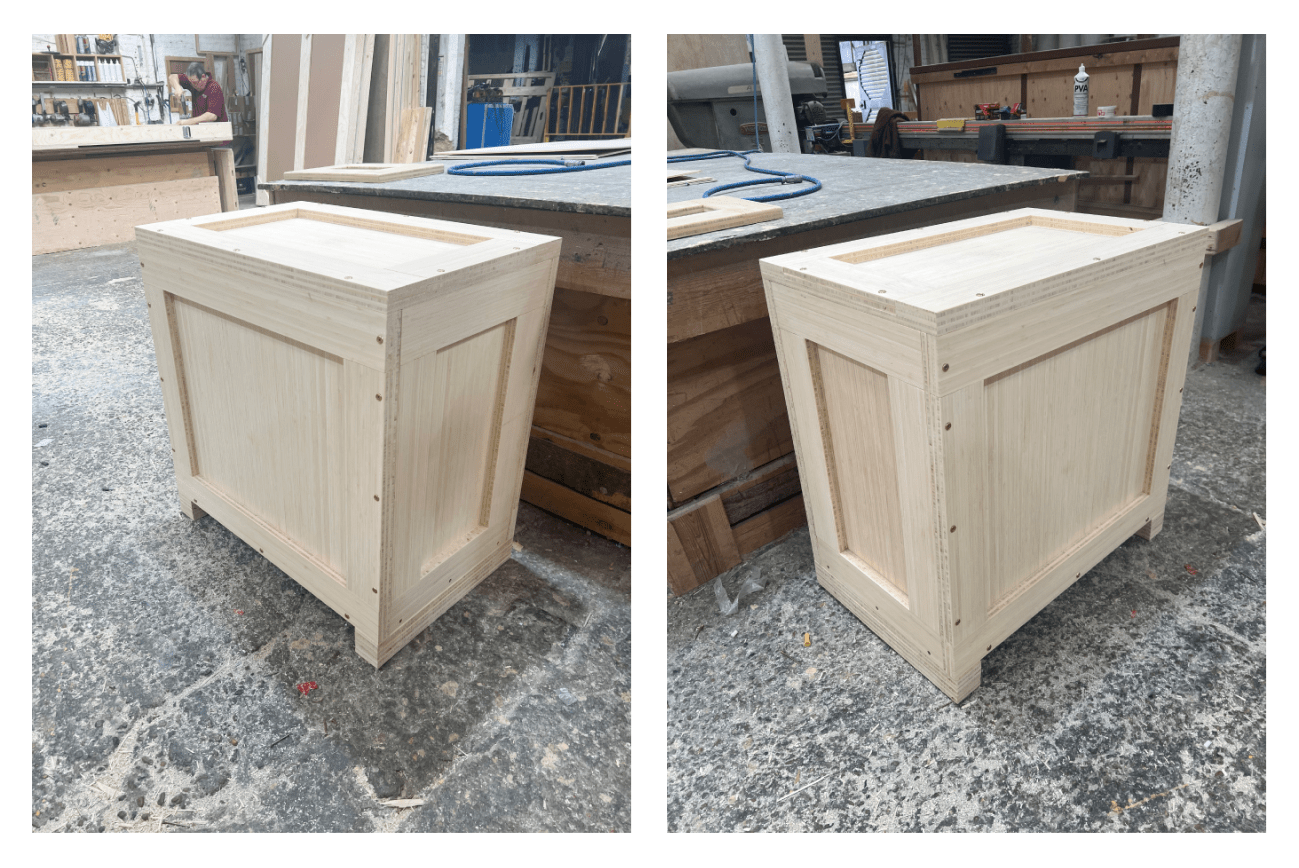 That said, once the crate was made it was actually heavier than the standard pine crates of the same size (by about 10kgs). This was a surprising result, considering bamboo was meant to be lighter than pine. Additionally, it was also 151% more expensive. This was less of a concern, as we would expect this to be mitigated if we were able to buy in bulk.
Unfortunately, the bamboo crate worked out heavier because the amount of bamboo sheeting required to keep the work safe and for the crate to pass stress testing was substantial (5 sheets deep in parts).
We then went back to the drawing board to see whether we could reduce the amount of sheeting required. We were hoping that it could both lower the cost and the weight of the crate. The next sheet size down from our standard 12mm sheet was 7mm, which, unfortunately, failed to provide adequate protection and allow the crate to pass stress testing.
Our bamboo crate trial hadn't worked.
So, whilst we continue to trial new packing materials, our focus remains on working to re-use packaging where possible. For clients looking to reduce their packaging consumption, we do have a small number of used crates in storage that may be able to be repurposed. Our cyclical packing options also remain in circulation. In addition, our team remain on hand to advice when it's be feasible to use these.
In the meantime, we would welcome collaboration across the industry. If you'd like to work with us to develop and trial more eco-friendly packaging solutions, get in touch via info@queensfineart.com