As the price of oil surges to record levels ($139 per barrel at the time of writing), we wanted to ensure you have the information that you need regarding surging fuel prices, diverted routes and updated timelines.
Air-Freight
There are a few factors to consider here.  The first is the increasing price of crude oil.  Airline fuel, or jet fuel, is kerosene-based and derived from petroleum. So the cost of airline fuel tracks the overall price of crude oil.
With crude oil prices at a record level and with no indication that these prices are going to return to previous levels soon, airlines are faced with fuel on costs that, in many circumstances, they are passing to the end client. This means that the cost of moving works via air-freight is set to increase over the next three to six months as airlines attempt to cover these costs.
In addition to fuel price increases, the current situation in Ukraine and the closure of Russian airspace to EU carriers has resulted in a significant increase in airlines' operational costs and has added complexity.
Below, you can find an illustration of how some air-freight routes have been forced to change in order to avoid Russian air space. In many circumstances, this is resulting in longer journeys, stop-offs and increased fuel consumption.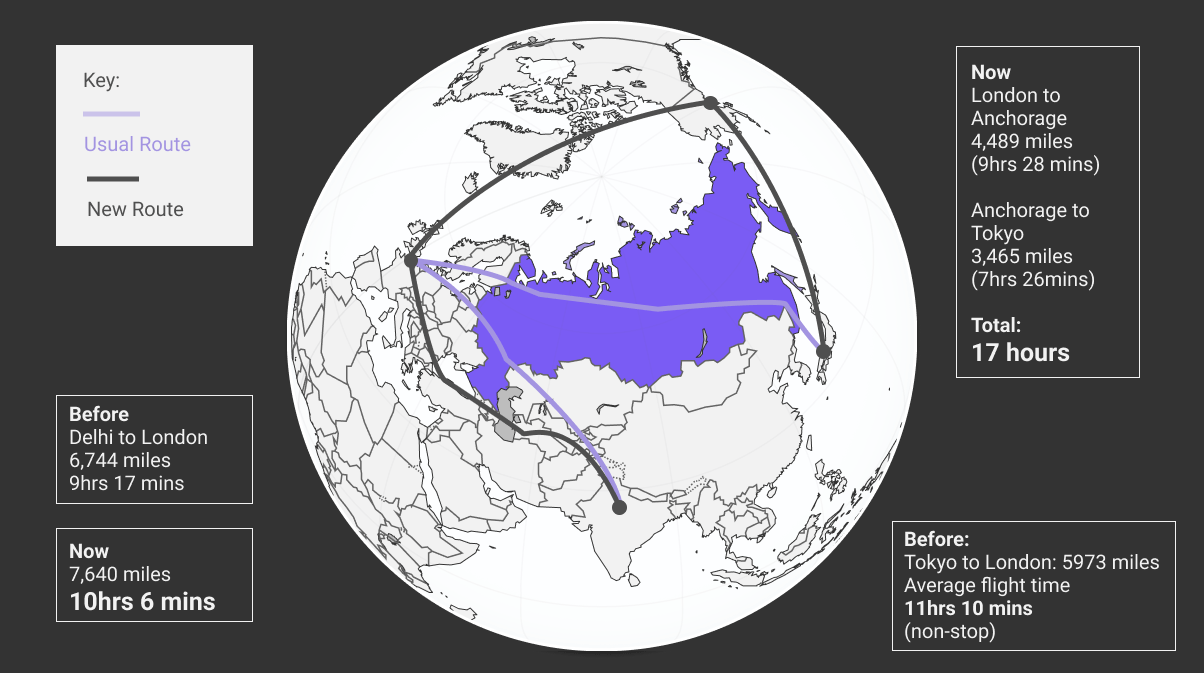 With this in mind, some carriers plan to implement a 'War Surcharge' that will be applicable on all cargo having origin or destination in Asia (China, Hong Kong, Taiwan, Indonesia, Vietnam, Thailand, Korea, Japan, Singapore, and Malaysia).
This surcharge will be applicable on chargeable weight and will amount to circa GBP 0.15 per kilogram.
At this stage, our advice to clients is to engage with your logistics partners as soon as possible to allow them to arrange shipments well in advance.  The earlier that you can plan for a shipment the more likely you are to be able to secure the most cost-effective rates. Rates typically increase as the flight departure date approaches.
We also recommend that you don't 'hold off' on sending works until a later date in the hope that rates will reduce. All current predictions suggest that these increases will be in place for at least three to six months.
Rail-Freight
With increasing air-freight and sea-freight costs, we had embarked on trials for rail transport between London and China which would have been a fantastic leap forward for our clients looking to move works for fairs such as Westbund in November.
However, given the current situation this will no longer be an option – as these rail routes pass through Russia and Belarus. We will closely monitor the situation, and should rail-freight be an option again in the future we will update our clients.
Sea-Freight
With the increasing pressures on the global supply chain, the cost of shipping works via sea-freight has drastically increased year on year. As an illustration, an FCL Grade A container from Shanghai to London might have cost around £1,500 before the outbreak of the COVID pandemic. We recently shared an estimate with a client for the same journey that was ten times more expensive.
It is also important to note that the availability of sea-freight containers is at an all-time low and vessel delays remain a significant problem in Asia, North Europe, and the USA. Despite an overall decline in the number of ships waiting for a berth at Los Angeles, for example, the port's infrastructure continues to be heavily congested and ports are struggling to clear cargo backlog. The same is true across almost all major ports.
If you are planning a shipment via sea-freight in the next six months, we recommend engaging with your logistics provider as soon as possible to allow them to secure the containers necessary. Sea-freight can still be a cost-effective way to move goods around the globe, especially when air freight rates are as heightened as they are currently. Moving works via sea-freight is also much less carbon-intensive. For more information on shipping via sea-freight, you can view our guide here.
For many art fairs, including Frieze New York, Art Basel Miami, and Westbund sea-freight remains an option.
Of course, should you require further information on this, your Queen's contact remains at your disposal. Alternatively, you can email info@queensfineart.com and the relevant team will be in touch.