Looking to explore the role of art in interior design? In the first part of our Interior Design series, we speak with Interior Designer, businesswoman and influencer, Gloria Sanchez from Tailored Living. From how she chooses pieces for clients to the future of NFT art, Gloria shares her view on the relationship between art and interiors. First up;
Many of your designs include perfectly matched pieces of art. How do you go about choosing these?
At the beginning of every project, we always ask our clients if they own any particular piece of art or furniture that they want to keep. If they have artwork that they want us to include in the project, we design the room around it to ensure the space flows. In these cases, rather than having art created to match a scheme and blend in, the artwork becomes the starting piece for that particular space. However, in most cases, our clients present us with a blank canvas, and we source the artwork for them. After deciding on the colours, size and style that best work with the scheme, we discuss the clients' needs and preferences with Quintessa Art Consultancy, with whom we have been working for the past 8 years. They have been in business for over 30 years, offering pieces specially designed for the interior designer's world, and not only do they match our colours to perfection but also the quality of the pieces they sell is outstanding.
How do you go about styling art in interior design within client's homes?
At Tailored Living we regularly meet with our clients and get to know them before we start the design process. By the time we reach the styling phase we know their preferences and what suits both their lifestyle and the space best. We see the pieces we choose as a continuation of the interior design scheme, paying the same level of attention we would pay to choose fabrics and the different materials that are part of the project. In most cases it's not about the art itself, but about the project as a whole.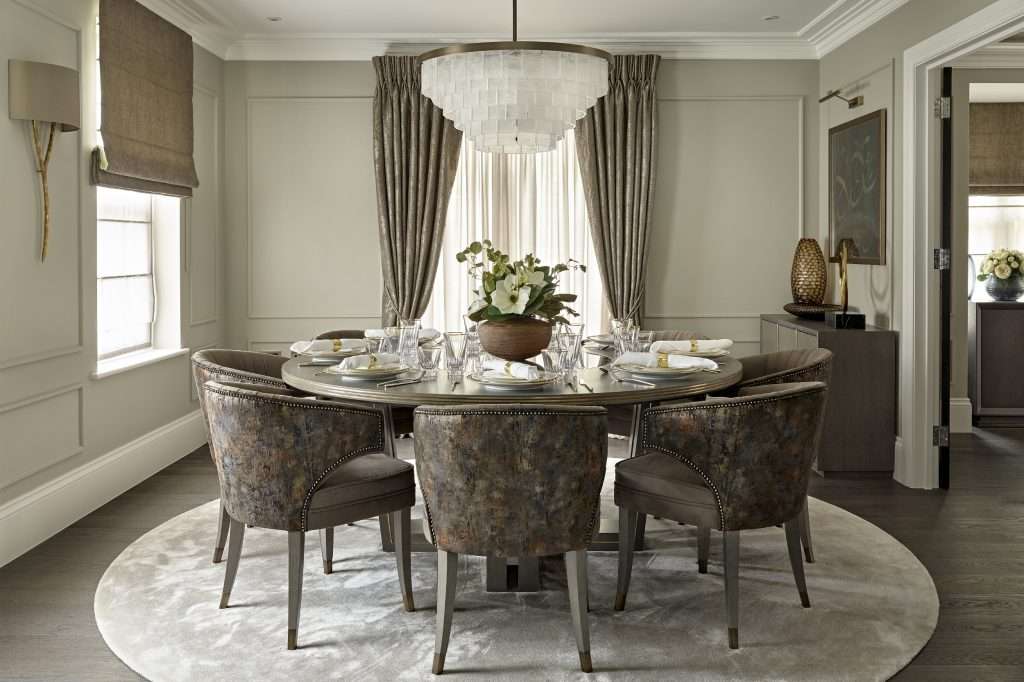 Would you say that your relationship with art has changed since becoming an interior designer?
Yes. Think about those days you may not look your best, think about having to rush out of the house, think about a quick fix that will make you feel you are ready: for me, that's using mascara and lipstick. When it comes to styling a room, accessories are the mascara and lipstick of the space. Without them the room feels soulless, lacking in character. We use art to make the space come together in a way it would not if the walls were empty and there were no accessories. They make rooms inviting, warm, hence making you want to spend time in it.
The art pieces we choose for our projects are mainly what we like to call decorative artwork, pieces whose value may not appreciate over the years but they will become the focal point of a room transferring the feel we are looking for in a room. I see them as wall decorations and as such they will always complete the design to a point that changing them would change the entire perception of that particular space. Having said that, when required within a particular project spec we also search and work closely with the client to supply investment art, working with specialist galleries in the industry.
With the current buzz around NFT art, how do you think this will impact how people buy and display art within their homes?
NFTs are the new kids on the block, and we are all learning about them and trying to guess how they will change our lives, if at all. There is no doubt that they have come to disrupt the collector's world, and as one can expect they come in different forms. Some only transfer ownership of the original to the lucky owner – see Beeple's Everydays: The First 5000 Days recently auctioned by Christies for $69 m (£50 m) – but not any rights derived from its reproduction. Others will offer a limited edition of a given item, for example a book, sending a printed copy to some or all of the token holders existing at a specified time. There are NFTs for music, and even for collector's digital trading cards. They all have one thing in common: they exist in cyberspace and are stored in blockchains, which brings up the question of the environmental impact of NFTs. As to whether one can physically enjoy them depends on the description of the NFT as per its creator's choice. It may be possible for some NFT art to be enjoyed in the home, perhaps even placed on a digital support over the mantlepiece, but NFTs are mainly a form of investment, a proof of ownership, and, as such, they cannot replace art as we know it. Unless of course someone's investment choice is between one or the other.
I would say the question is more a matter of digital art versus traditional art. Digital art has been around for decades, with many artists creating amazing pieces of digital art. Yet they all have faced one problem: digital artwork cannot always keep up with the rapidly evolving pace of technology. Some artists offer a number of updates included in the sale of the artwork but there will be a point in which the owner will have to either find a solution by themselves or simply repurpose the item. A bit like what happened with 8mm family films, or more recently CDs.

Are you working on any exciting projects right now that you'd like to share with us?
We have lots of exciting projects in the pipeline, both in the UK and abroad, and we will definitely be using traditional forms of art in all of them. Keep an eye on our social media to follow the progress!
Are you an interior designer looking for logistical support? As part of our ongoing interior design services, our specialist team can assist with condition reporting, inventory management, storage and installation. Find out more or contact the team and we'd be happy to help.