With only three months to go until the opening of West Bund 2022 and as clients start to evaluate whether sea freight will be a viable option for them this year, we thought it would be useful to demonstrate the carbon saving that could be made by a gallery looking to move works via sea freight.
As a working example, the below assumes a gallery moving 15 cubic meters worth of artwork from a central London location with delivery to the fair in Shanghai.
Sea Freight to West Bund
Should a client look to move works via sea freight, works would be collected, packed and transported to London port via road. In this example, the total weight of the crated artworks has been assumed at 600kg, meaning the emissions released from packaging alone would be circa 0.33 tCO2e.
After arrival at London port, the artworks would then be loaded onto the ship into a 'Grade A', Reefer, temperature controlled, container before completing the 22,009km journey to West Bund – a journey which would emit 0.24 tCO2e.
Table 1: Carbon emissions of transporting by Sea Freight



The total amount of emissions produced by this shipment from start to finish would amount to 0.63 tCO2e.
Now, let's compare how the emissions differ when the same works are transported via air freight.
Air Freight 
For both shipments, the packing required would remain the same, so we can assume that the same amount of CO2 will be produced in this respect. The transport of the works to London Heathrow Airport, and from Shanghai Pudong Airport to West Bund would also generate a similar amount of carbon when compared to the sea freight alternative, which equates to 0.06 tCO2e.
Table 2: Carbon emissions of transporting by Air Freight

However, moving these same works via air between London Heathrow and Shanghai Pudong Airport (a distance of 9,244 km) would generate over 6.28 tCO2e.
The total amount of emissions produced by this shipment from start to finish would amount to 6.67 tCO2e.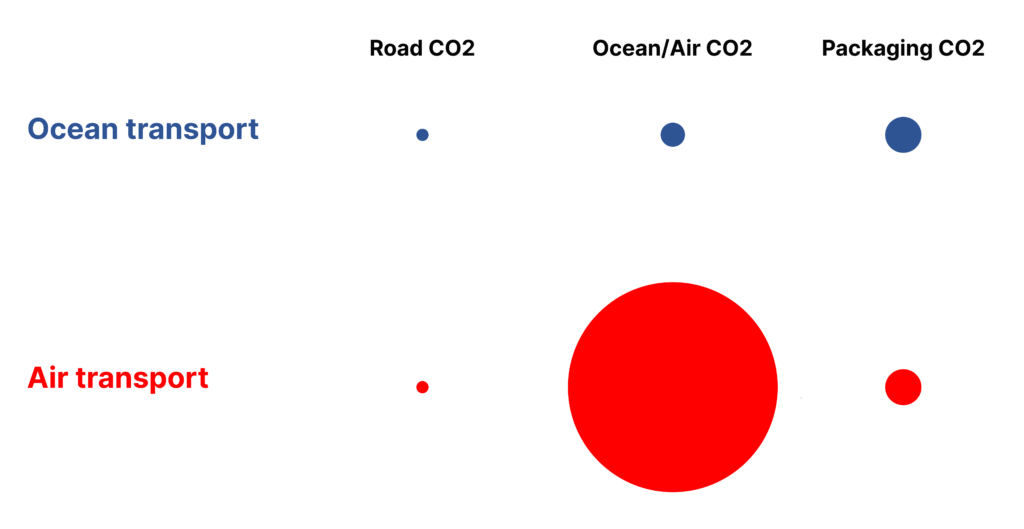 As you can see from this chart above, the difference in carbon generated by these two shipments is significant. Should a client opt to move works to West Bund via air, then the carbon emissions generated would be approximately 8.9 times higher than those generated by moving the artworks via sea freight.
Should you be looking to transport works to West Bund this November, your Queen's contact remains and your disposal and will be able to advise on the most appropriate option available to you. Alternatively email info@queensfineart.com and one of our international shipping managers will be in touch.